MIX56
______
Mix56 is a ministry for 5th and 6th grade students designed to equip them with bible-based teaching. We strive to create a place of belonging where students take hold of their own journey of faith through missional life, identity, and extreme fun. Mix56 is sure to challenge them in their walk while connecting on a deeper level with their peers and leaders.
OUR MISSION:
We are a ministry to 5th and 6th grade students. We offer a balanced mix of missional life, intentional biblical teaching, and some extreme fun! Our Summers will be spent learning to live externally on mission as we explore a variety of opportunities both locally and globally.
WHO:
5th & 6th Grade Students
WHEN:
Sunday Nights 5:30PM - 8PM
5:30 PM- Doors open for Drop Off (Check-in)
5:45 PM- Worship
6:15 PM- Opening game
6:25 PM- Message
6:45 PM- Small Groups
7:00 PM- *Free Time/Pick up/**Snack Shack Open
7:56 PM- Dismissed
WHERE:
LARGE GROUP ROOM
MIX56 will enter through the side door located next to Large Group Room.
XTRA INFO:
*FREE TIME: Activities include-Gaga Ball, 9-Square, Ultimate Frisbee, Basketball, organized games, etc.
**SNACK SHACK: Pizza Meal Deals will be available for $5. Includes 2 Slices of Pizza, chips, drink. Chips, Drinks, & Candy sold separately for $1.
---
UPCOMING EVENTS


PEAK WEEK: July 19-21
MORE INFO BELOW
---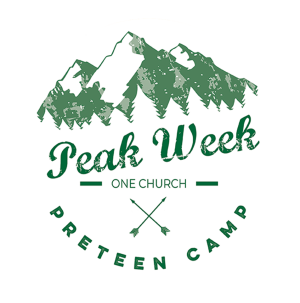 What is PEAK WEEK?
Peak Week is a 4 day, 3 night, Preteen Camp designed for students who have completed 3rd - 6th grade. Campers will experience interactive Bible studies, high-energy worship, small group discussions, and plenty of wild and fun outdoor activities — all to ensure a mountain top camp experience leading preteens toward knowing Christ and growing in relationship with Him.
Why PEAK WEEK?
Mountains and hills are mentioned over 500 times in scripture. They are referenced in regards to personal encounters with God. A mountain-top experience is a temporary, uncommon encounter with God that is meant to give us a fresh awareness of His reality and nearness.

At PEAK WEEK, we want our Preteens to not only KNOW GOD: learn something new about him, but they will feel overcome by a greater awareness of God's reality and His nearness of their life at a young age.

When He shows up in our lives in a powerful dramatic mountain top way, it's so that we would do something differently, that we would be different. And as we come down off that mountain, we're impacted, not only in what we know and what we feel but in what we do.

PEAK WEEK 22: July 20-23


---

A YEAR AT A GLANCE: 2022-2023
NOVEMBER

11/4: FRIDAY NIGHT FRENZY
11/6: Service
11/13: Service
11/20: NO SERVICE - THANKSGIVING
11/27: Service
11/28: LAUNCH BASECAMP '23
DECEMBER

12/4: Service
12/11: Service
12/18: Service
12/25: NO SERVICE - CHRISTMAS
JANUARY

1/1: New Years Party
1/8: Service
1/15: NO SERVICE - MLK DAY
1/22: Service
1/29: Service
FEBRUARY

2/5: Service
2/12: Service
2/17: BASECAMP '23
2/19: NO SERVICE - RECOVER FROM BASECAMP
2/26: Service
MARCH

3/5: Service
3/12: NO SERVICE - SPRING BREAK
3/19: Service
3/26: Service
APRIL

4/2: Service
4/9: NO SERVICE - EASTER
4/16: Service
4/23: Service
4/30: Service
MAY

5/7: Service
5/14: NO SERVICE - MOTHER'S DAY
5/21: Service
5/26: FRIDAY NIGHT FRENZY
5/28: NO SERVICE - MEMORIAL DAY
JUNE

6/4: Service
6/11: Service
6/18: NO SERVICE - FATHER'S DAY
6/25: Service
5/26: FRIDAY NIGHT FRENZY
5/28: NO SERVICE - MEMORIAL DAY
JULY

7/2: Service
7/9: Service
7/16: Service
7/19-21: PEAK WEEK (5 YEARS!)
7/23: Service
7/30: Service