RESTORATION KIDS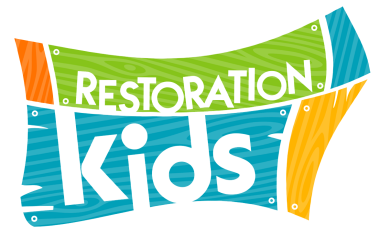 WELCOME!
___
Restoration Kids is a super-fun place for Infants through Grade 4, where we get to share the story of Jesus.
We believe the church and family should work together to make a greater impact on the heart of a child. One of our ministry priorities is to encourage parents in raising a godly generation and it is our passion to partner with moms and dads so that families can fall in love with Jesus together.
We look forward to meeting you!
---
Restoration Kids are grouped by age:
EARLY CHILDHOOD
Infants
Ages 1's, 2's & 3's
Pre-K (4's)
Kindergarten
Mother's Day Out program for ages 6 months through Pre-K .
ELEMENTARY
Grades 1 - 4
Grades 5 - 6
---
SAFETY
___
We take the safety of your child seriously at Restoration Church. If it is your first time with us, please proceed to our Restoration Kids Check-In Center and one of our greeters will be glad to check-in your family. We utilize a security tag system for you and your children so it is important you check in here first. This is an important step in our security process and we appreciate your cooperation. If for some reason we need to reach you during the service, we will show your child's security tag number on the screens during the worship service. If you see your child's number on the screens, please proceed to the Check-In Center.
All teachers are required to submit a thorough background check.
INFORMATION & VOLUNTEERING
BAPTISM GUIDE
To download a guide for Baptism for kids, click HERE
___
For more information on Restoration Kids, please contact Kari Hogan.
To volunteer, please contact Trina Burrows.