MIX56
Mix56 is a ministry for 5th and 6th grade students designed to equip them with biblical teaching. We strive to create a place of belonging where students take hold of their own journey of faith through missional life, identity, and extreme fun. Mix56 is sure to challenge the 5th and 6th grade students in their walk with Jesus, while also connecting on a deeper level with their peers and leaders.
OUR MISSION:
We are a ministry to 5th and 6th grade students. We offer a balanced mix of missional life, intentional biblical teaching, and some extreme fun! Our summers will be spent learning to live externally on mission as we explore a variety of opportunities both locally and globally.
WHO:
5th & 6th grade students
WHEN:
Sunday nights from 5:30pm-8:00pm
5:30pm - doors open for drop off (check in)
5:45pm - worship
6:15pm - opening game
6:25pm - message
6:45pm - small groups
7:00pm - *free time/pick up/ **Snack Shack open
7:56pm - dismissed
WHERE:
LARGE GROUP ROOM
MIX56 will enter through the side door located next to Large Group Room.
XTRA INFO:
*FREE TIME: Activities include-Gaga Ball, 9-Square, Ultimate Frisbee, Basketball, organized games, etc.
**SNACK SHACK: Pizza Meal Deals will be available for $5. Includes 2 Slices of Pizza, chips, drink. Chips, Drinks, & Candy sold separately for $1.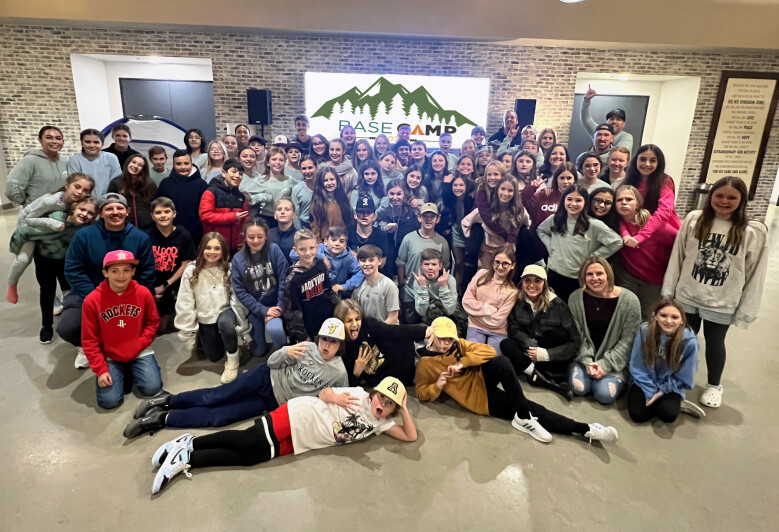 A YEAR AT A GLANCE: 2023-2024
OCTOBER
10/1: Service
10/8: NO Service (School Holiday 10th-11th)
10/15: Service
10/22: Service
10/29: Friday Night Frenzy
NOVEMBER

11/5: Service
11/12: Service
11/19: Service
11/26: NO Service (Thanksgiving)
DECEMBER

12/3: Service
12/10: Service
12/17: Service
12/24: NO Service (Christmas)
12/31: Service
JANUARY

1/7: Service
1/14: NO Service (MLK Day)
1/21: NO Service
1/28: Service
FEBRUARY

2/4: Service
2/9-10: Basecamp 2024
2/11: NO Service (MLK Day)
2/18: Service
2/25: Service
MARCH

3/3: Service
3/10: NO Service (Spring Break)
3/17: Service
3/24: Service
3/31: NO Service (Easter)
APRIL

4/7: Service
4/14: Service
4/21: Service
4/28: Service
MAY

5/5: Service
5/12: NO Service (Mother's Day)
5/17: Friday Night Frenzy
5/19: Service
5/26: NO Service (Memorial Day)
JUNE

6/2: Service
6/9: Service
6/16: NO Service (Father's Day)
6/23: Service
6/30: Service
JULY

7/7: Service
7/14: Service
7/17-20 Peak Week 2024
7/21: Service
7/28: Service
---